Name:  
Yelena Bryksenkova
Age: 
24
Location:  
Brooklyn, NY
Q: How and when did you first become interested in illustration?
I had been aware of illustration my whole life – pictures in books that were read to me at bedtime left a lasting impression – and I developed an interest in commercial art in high school, but i didn't seriously consider illustration as a career choice until I came to MICA. It seemed an obvious direction for me to take then, and I never looked back. It's the perfect balance of concept and craft, and it gives the observer the option of enjoying either or both, without feeling intimidated. It means a great deal to me when my work can evoke nostalgic  feelings in a stranger, but it's also okay if somebody likes it because it's cute.
Q: Do you have a strategy for starting a project? Any warm-up rituals?
I like my desk to be very neat and organized before I begin, and the tidying often extends to the rest of the room. My space has to be cozy and de-cluttered before my mind can be the same. Otherwise my process will have an air of impatience about it, and the quality of the work will suffer.
Q: Can you briefly explain your illustration process?
I enjoy research, so a challenging brief from a client is always an interesting opportunity to learn about something new. Once I have the basic idea, I start with simple pencil sketches. I go over the best sketch again with more defined lines and decide on the final composition, scan it, and play around with transparent color layers in photoshop. I then transfer the lines onto watercolor paper using a light box and go over the lines with a thin black line. The final step is a light wash of watercolor – usually a watered down blue-gray – to soften the color and texture of the surface. Once that layer is almost dry, I paint over with watercolor, adding small details with gouache.
Q: You've got a crazy impressive client list! Would you say that your illustration jobs come more from promoting yourself or from knowing people and having connections? Any marketing tips for illustrators still struggling to be seen?
When it comes to networking, aggressive and fast is not my style; I prefer to take a little longer and build meaningful relationships with other illustrators and potential clients, so I think that many of my jobs have reached me through word of mouth and occasionally having my work show up in the right place at the right time.
Q: What has been your most successful type of promotion? Mail, Social Media, Direct Contact, etc. What do you think makes a promo successful?
I like to share my work on prominent blogs, where I know it will reach a wide range of people, from art directors to people who just enjoy looking at and collecting art. For me it's important to have the attention of those casual readers as well because they are the ones that often seem to be moved by something I drew, enough to send me a very kind note of appreciation. I was very stubborn about joining Twitter, but when I finally did, it turned out to be an amazing tool. All of the professional illustrators I considered unapproachable suddenly revealed themselves to be friendly and open people, and a lot of opportunities have come just from those simple interactions.
That's why I would say that what makes a promo successful is quality, memorable images that represent your best work, paired with a simple and approachable attitude.
Q: You recently started Sad Girls, a NYC based collective, with Tuesday Bassen and Leah Goren. What prompted the beginning of this collective, and what is the benefit of this type of support structure?
Sad Girls started pretty casually – we were hanging out one day and decided that we should collaborate and bring other girls whose work we admire into the mix. There is strength in numbers and we each have something to bring to the project, so gaining a following as a collective eventually helps each individual get noticed, too.
Q: What are a few favorite pastimes aside from making awesome illustrations?
I like to travel near and far, collect special books and objects, and drink lots of tea. I enjoy going on walks through forests, fields and cemeteries, sometimes with music and sometimes in silence.
Q: Do you have any advice for art students interested in illustration? What has been the biggest challenge up to this point in your career? What has been most rewarding?
I highly recommend interacting with     other young illustrators, and always being genuine. Don't be the person with crazy networking eyes talking to a potential colleague or client while scanning the room for someone more important. Be charming and kind and people will remember and want to work with you.
The biggest challenge so far has been learning to value my work and convey my terms to the client without selling myself short. The most rewarding are the connections I've made with people all over the world.
Q: What are five goals you have for the future? Any big plans for change?
My goals for the future include streamlining my website and blog, expanding my work to include 3-dimensional objects, make little books or zines, live in a few different cities, possibly eventually become a hermit somewhere in Newfoundland or Antarctica.
Q: Is there anything we should know about you or your illustration work?
Hmm, I don't think so, I can't think of anything anyway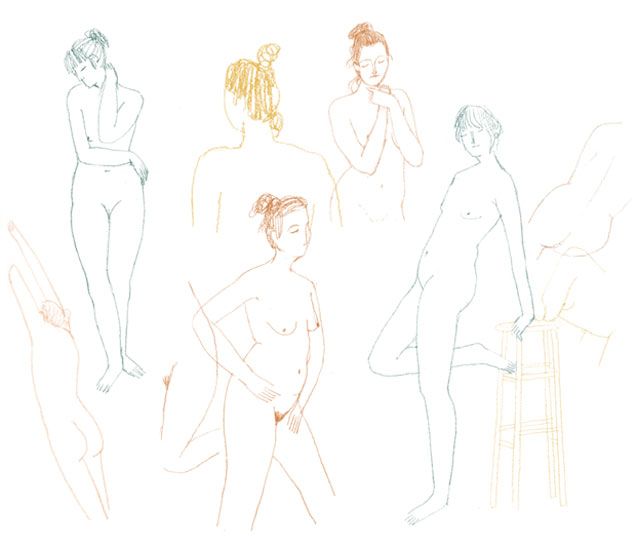 For more of Yelena's work: